New Arrivals!
Shania breastcollar

Shania breastcollar

Shania breastcollar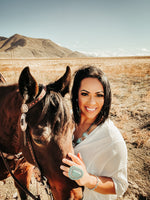 A Little Behind The Scenes!
Hello everyone!! This is Traci Hume the owner and tack maker of Country Chic ( sheek) leathers!
I have quite a few new followers now so It's about time that I introduce myself.
I live on a 5 acre farm with my amazing husband, and beautiful daughter Leilani in Winnemucca, Nevada. I have 1 horse ( Freya my 2 yr old filly), corgi ( Milo), St. Bernard ( kimber), my cats Elvis and Moose.
I have been working with leather for over 3 years now. When I started my business I had absolutely zero experience with leather and starting a business. I had absolutely no help with leather and I am self taught. I thank all of my sponsored riders for helping spread the word of my business along the way. I also take all the pictures on my page and have a new love for photography.
I am also Native American ( Shoshone) and love to show case my love for the culture through my products.
My mom and dad have been a huge help along the way. My mom has started helping me with making and creating new products ( wallets, earrings and coming soon handbags). My husband is also helping expand my business by starting a hardware line. My dream is to have a one stop shop for horses and people!
My guilty pleasures:
Rock music ( all kinds), 90s country, dance music and rap 😜 Taco Bell, road trips, reining and Cheetos!!
I absolutely appreciate every one of you for supporting my business today!! A special thanks to my og followers from day 1!
I couldn't do any of this if it wasn't for you.
Also feel free to shoot me a message! Don't be shy I am here for everyone!